If you saw the news last week that Combat Mission: Shock Force 2 is headed to Steam and had your curiosity piqued, this presentation from the Connections Wargaming 2020 conference earlier this week could answer some questions you have about the game and what it does. Combat Mission developer Battlefront works on both commercial and professional military versions of the game, but at their core they're both wrapped around the same engine and fundamentals.
Battlefront's presentation runs through a slide stack listing Combat Mission's features – basically, it's a highly detailed simulation that tracks a massive amount of data down to the individual soldier. Shock Force 2 is focused on present day formations, but as fans of the series already know, the franchise began as a World War II strategy sim.
After the slides, there's video of a combat scenario – it's one you can play if you download the free demo, and it's a mechanized infantry assault on a MOUT site based on McKenna Range at Fort Benning, Georgia.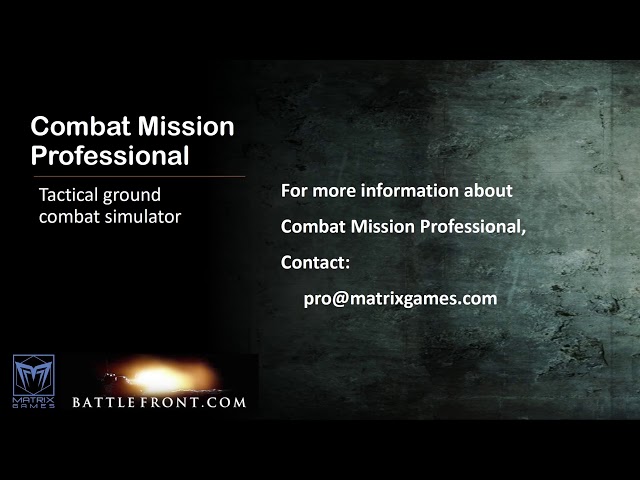 The demonstration is set up in simultaneous 'wego' format, so there's an orders phase followed by a 60-second action phase – you all know the drill by now. Having muddled around a bit with it on my own, it was nice to see the scenario played 'correctly.' The use of smoke rounds fired from paladins was particularly thrilling – it hangs in the air and, despite the somewhat clunky look that Shock Force 2 still has, wafts pleasingly in the direction the simulated wind is blowing across the battlefield and provides a thick screen for assaulting troops.
Following the scenario, Battlefront fields some questions from viewers, and the answers provide some insights into what's going on under the hood in Shock Force 2, as well as how the latest engine improves on past iterations. It's worth a watch if you're interested in the game, or if you're curious about upgrading to the new version.
We've shot some questions of our own over to Battlefront, asking about the decision to make Combat Mission available on Steam and the studio's arrangement with Matrix Games – so stay tuned. In the meantime, enjoy the weekend. Your regularly scheduled Joe will return Monday.